THE ULTIMATE DESIGN IN DRY TOILETING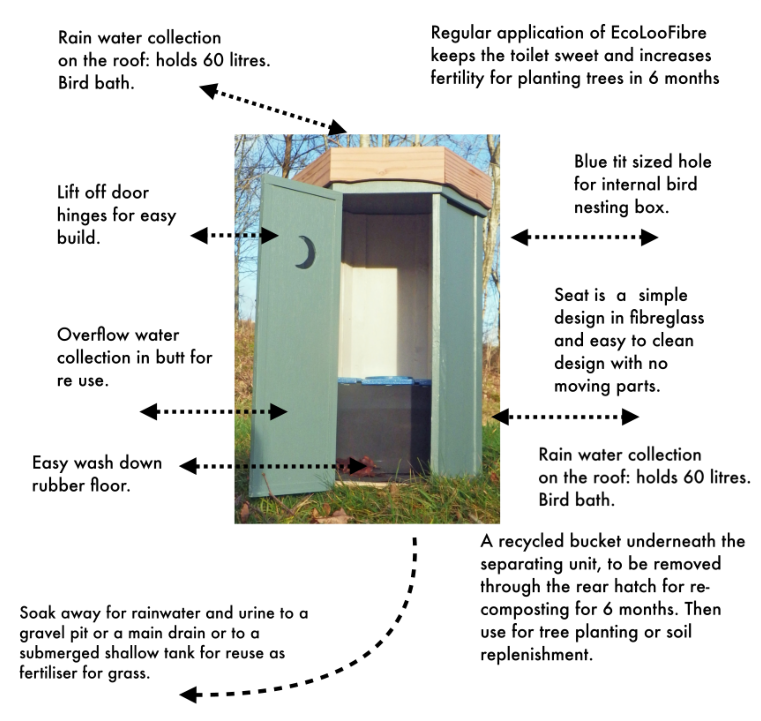 Introducing the environmentally friendly way of toileting.
helping the birds
saving gallons of water
helping the planet and planting trees
Little things mean a lot and one small way we can help the planet is to demonstrate a 'back to nature' system which could be one.
The 5′ version of Temple to Nature® is designed for children to build and use themselves. On top is a pond to attract birds, away from predators. It also incorporates a secret bird box that could have a camera fitted.
An adult version: 6′ can be made to order.
Collection of the waste material is from a recycled and lidded bucket in children's toilets or from a bin underneath. The bin version [to order] only needs emptying once per year. All this depends on the number of users.
The most important facts are:
keep the waste dry and the unit well ventilated
the window grill is the air inlet and the pipe at the back of the outlet
it can save up to 50 litres of water per day
Children's dry eco toilet, with adapter for 2-year-olds at extra cost.
Flatpack and only needs an Allen key headed screwdriver.
To ORDER the Eco Dry Toilet
Contact us at templetonature@icloud.com
WHY ECO DRY FIBRE LOOS ?
EVERYTHING YOU NEED TO KNOW ABOUT RESOURCE RECOVERY IN DRY ECO LOOS
Saves valuable treated drinking water and helps lock up carbon.
Natural separation keeps the bacteria in a healthy state. The unit prevents the unnatural mix of faeces and urine from creating an unpleasant smell.
Urine is collected and diluted and becomes a nitrogen fertiliser on its own to make grass greener.
Solids mixed with loo fibre and paper begins to break down to compost only when water is added. Once the biological breakdown has occurred after a few months the mix is ready to put back on the soil.
---